Online Garifuna Dictionary
Ruben Reyes Online Garifuna Dictionary
Translate words between Garifuna, English and Spanish. Select your language, enter your word and click on translate.


---
The Garifuna Word of the day is:
lebegi arufudahani (le-be-gi a-ru-fu-da-ha-ni) n.
Translation:


English: tuition, n.
Spanish: precio de la tutoria, n.
---
Courtesy of the Online Garifuna Dictionary of Ruben Reyes.

Today We Make History:
Garifuna Dictionary Mobile
Search words from the convenience of your phone or tablet
Receive a new Garifuna word every day
Learn about the Garifuna History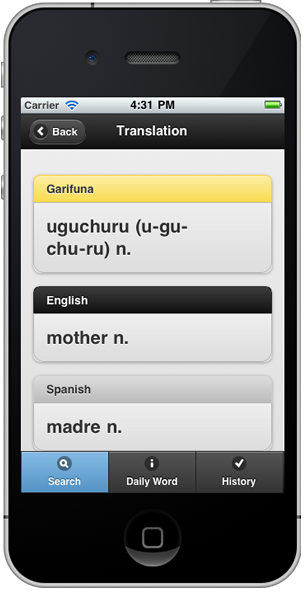 Latest Stories
Events

GAHFU Garifuna Class
Every Saturdays from 10AM - 2PM at
Blazers
1517 W. 48th St
Los Angeles, CA 90062